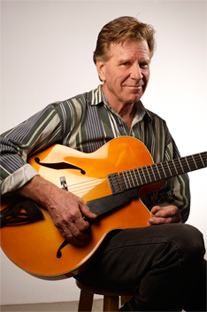 Brad Nickerson was born and raised on Cape Cod and showed an early interest in music and the visual arts. He attended The Berklee College of Music and subsequently made his living in the graphic arts field for many years while continuing his interest in music. He built his first guitar in 1982.
Brad received valuable advice and encouragement from New York luthier Carlo Greco as well as Cape Cod violin and bow maker Donald MacKenzie; and found inspiration in James D'Aquisto's innovative ideas and sense of style. Much valuable experience was also gained doing repair work at Bay State Vintage Guitars in Boston and The Fretted Instrument Workshop in Amherst, Mass. He taught archtop guitar building at the Leeds Guitarmakers' School in Northampton, MA
beginning in 1996.
In 2006 Brad moved to Asheville, NC. There he has set up shop in the historic downtown - focusing on sharing his knowledge, skills and experience with a new generation of prospective builders.