What Brad Nickerson's Students and Guitar-Playing Customers are saying . . .
"I am very fortunate to have grown up in the environment of New York Jazz History. My mentor was New York Bebop guitar innovator Chuck Wayne; through him I've had contact with James D'Aquisto, who would set up my instrument for me. Brad Nickerson is the only present day luthier I know who posesses a certain sensitivity and intuition to the instrument of jazz guitar. Brad has taught me so much about properly setting up the instrument, and has done countless experimentations in discovering truths about his craft. I feel a deep insightfulness from him, with sincerity in his work and in sharing it with others."

Agostino DiGiorgio Prof. Jazz Guitar, Harmony/Improvisation
---
"Brad Nickerson is a patient and dedicated teacher. He has the rare quality of being able to explain foreign material without causing his pupils to feel overwhelmed or confused, no matter how inexperienced they may be. I spent several months in his workshop building my first guitar (which I hope won't be my last!) and thoroughly enjoyed my time there. His understanding of a student's needs is surpassed only by his understanding of his craft. I feel that I am always learning something new when I'm around him. It is easy to tell that he is passionate
about what he does, and gains great satisfaction from imparting his wealth knowledge to others. On top of that, he makes a mean cup of tea."
Amanda Platt - Guitar Builder
---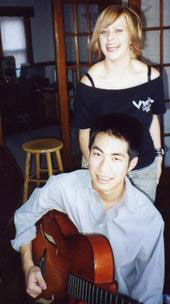 "Not only is Brad a world-class luthier, he is also a generous and patient teacher. My experience with him expanded the depth of my knowledge of guitar building, while offering me a glimpse into the working style and design intuition of a highly regarded luthier. I couldn't be happier with the guitar I built, and look forward to future projects that will inevitably be highly influenced by Brad's teaching and design."
Takeshi Yamashita - Recording Engineer, Live Sound, Session Guitarist, and Studio Logistics
---
"Taking Brad's archtop tutorial was an incredible experience. Despite my arrival as a novice with minimal skills in woodworking, Brad proved to be patient in teaching me how to construct an amazing instrument. He was also generous in sharing his in-depth knowledge regarding design issues and alternatives in guitar construction. I highly recommend taking Brad's tutorial to anyone interested in learning how to build an exceptional instrument."

Jerry Truhlar - Minneapolis, Minnesota
---
"If you've always thought you wanted to try to build a guitar, or maybe learn to repair those you own, do yourself a favor and let Brad teach you. He's got a patient, easygoing style and world-class building skills. He has shortened my learning curve by YEARS, literally. You'll be elated you did this."
Bill Greene - Performing Guitarist
---
Brad Nickerson's knowledge of the art combined with his teaching skills and personality can make building a guitar for the first time seem like a very natural and relatively easy project. I personally can think of no better way to build a foundation for a career in guitar building or to simply have a great time while trying something new and challenging than with the help and tutelage of this master of his art.
Adam Mason - Guitar Builder
---
Brad Nickerson is a born teacher. He is patient, and kind, and has a sense of humor (so lacking in many professional luthiers). I owe a lot to Brad. At a time when you could count the number of woman luthiers on one hand, Brad was willing to teach me everything he knew about building and repairing guitars. He never acted superior. I always felt like an equal, while learning the trade.
Now I have my own business doing repairs and restorations in Central Vermont, and not a day goes by that I don't think to myself, "What would Brad do right now?" If you get the chance to study with Brad Nickerson, just do it! You will be glad you did!
Lyn Hardy - Luthier - www.lynhardy.com
---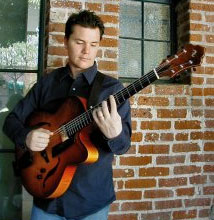 "Brad Nickerson is both artist and artisan working on the highest level of creativity. I am fortunate to have played his acoustic and electric archtop models for several years and have found his instruments to be unparalled in sound, playability, comfort, and intonation. Brad's background as an excellent guitarist and graphic designer inform his keen sense of aesthetics, which is revealed in the visual beauty and glorious tone inherent in each of his models. While many other "hand-made" guitar shops utilize CNC machines, etc., Brad actually builds each guitar, individually, by hand. The result is a one of a kind work of art. Indeed, his guitars have been part of installations at several museums including the Smithsonian "Blue Guitar" project. However, Brad builds guitars that are meant to be PLAYED, not displayed. Like all the great luthiers, his work reflects a balance between knowledge of and respect for the tradition, and ingenuity and innovation. Brad's honest curiosity guides his continual exploration within the art of lutherie. Over the years, Brad and I have talked for many hours about the nature and wonderful mysteries of guitars and tone, and I have always learned a lot from his insight. For those seeking to learn guitar building, what an opportunity to study with a master!!"
Sean McGowan - Award-winning guitarist & professor of music at University of Colorado at Denver
http://www.maplesugarmusic.com
Note: Listen to samples of Sean's music on our Sound Samples Page.
---
"I absolutely LOVE my Nickerson Guitar! It is a truly gorgeous instrument... so amazingly balanced & with such an incredibly full range. I don't know how you do it Brad, but my Nick runs the gamut from the sweetest high tones, to warmest/fullest midrange & most resonant bottom end. It is responsive and sings like no other guitar I've ever played. Every other pro guitarist who's played it loves it as well... Thank You Brad for your Magic... I am most honored to have a Nickerson Guitar in my world!"
Annie Wenz - Performing Artist / Songpoet / RN / Educator
---
"Over the years I have played every major brand's high end guitars and many one of a kind luthier models. This experience has given me an appreciation of the fine craftsmanship and wonderful tone quality of the guitars made by Brad Nickerson. It's the only guitar I have performed and recorded with over the last 10 years. It is also why I am now having him make me a 12 string as a pair to my current 6 string."
Archie Rasmussen - Performing Songwriter
---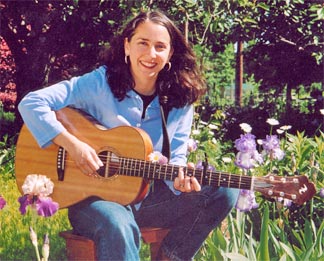 "I love my Nickerson guitar. It has a rounded back and a small body, perfect for my petite shape and has a huge sound for such a small instrument. I get so many compliments about it's sound and beauty. What kind of guitar is that? I say, it's a Nickerson, proudly."
Maria Sangiolo - Recording Musician - www.MariaSangiolo.com
---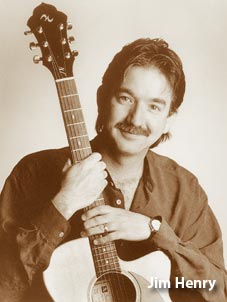 "In recent years I have made my living as a multi-instrumentalist, playing mandolin, dobro, electric guitar, baritone guitar and lap-steel with and for other people. But when I want to make music that's just for me, or present the music I have created, I reach for my Nickerson. For almost 15 years it has been at the heart of what I love to do-make music. It has helped me learn, teach, write, practice, perform and feel better during hard times. I will always own a Nickerson Guitar."
Jim Henry - Recording Musician
www.jimhenry.net/
---
I began playing guitar in college many years ago. Years of playing, with a little talent and a lot of patience, brought me finally to explore premier handmade guitars about 20 years ago. I commissioned a couple fine arch tops with specs I found to be rare, such as 25" scale and a 1 13/16" nut. I also found an amazing cutaway classical made in Spain that suited my taste. But over the years I found few flat tops that had the specs and playability that I wanted, even in the fine shops I visited from California to my home state, North Carolina. A few passed thru my studio but were soon on their way out.
Then I found Brad and his student each making a guitar with all the specs I would want had I been ready (or brave enough) to commission one. I don't know if Brad had heard me go on about my ideal guitar during the 4 or 5 years I had known him, or if it was providence at work. I watched their progress through the weeks. Then there it was: 25 scale, 1 13/16" nut. Indian Rosewood back and sides with Adirondack spruce top. And it sang like a songbird and played like a dream. And such fine and careful craftsmanship with his experienced touch at coaxing out just the right combination of tone, feel, playability and beauty. Now with such an amazing guitar in my home, I may have trouble finding what to dream about next. Thanks, Brad!!
Larry Anderson, performing solo guitarist - Arden, NC