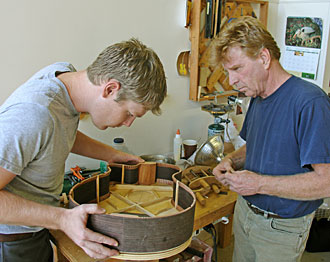 BUILD YOUR DREAM GUITAR
Perhaps you've been wanting to build your own guitar but are hesitating for lack of equipment, experience, or a place to work. Here's an opportunity to build the guitar you've imagined in my well-equipped workshop, with expert guidance.
Or maybe you're thinking of lutherie as a career, and would like to try a short but intensive and comprehensive course to see if you want to pursue it further. This course covers every aspect of guitar building; you'll gain valuable skills and experience whether or not you continue in this field; and you'll finish the course with a superb instrument.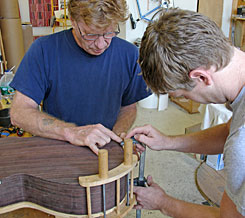 My teaching philosophy
My first guitar was completed in 1983, and I'm still fascinated and sometimes baffled by this incredibly complex thing made of scraps of wood and a few bits of metal and bone. I've made quite a variety of guitars, both archtop and flat top; you can look at my bio and the guitars pages for more information on what I've built and for whom. What matters here as it relates to my teaching is this: I've been most fascinated for these past nearly 25 years by what makes guitars sound the way they do, and how to make them better.(to my ears) Here's what I know so far: I've learned a lot; and it's an endless quest, there's always more to learn. And these two facts are what inform my intentions as a teacher. Actually, I think "guide" is a better word. I can impart to you what I know, and why I say I know it as opposed to believing it.( I can also relate my various opinions and theories, which we all have and love to share!) But the more important thing I can do is to encourage you to rely on your own ears and mind; to view popular guitar mythology with a healthy skepticism; to think and feel and listen for yourself. To me this is the most interesting and exciting work I could be doing in the world of guitars right now. So while I will be taking some commissions and guitars that I build with students will be available for sale, teaching is my primary focus.
I use and teach the use and maintenance of a variety of hand tools, a few simple jigs and fixtures, and very few power tools. My methods are simple, direct, and low-tech...and so easily reproducible by students without requiring a lot of space or a large investment in equipment.
Course format and scheduling - a unique approach
The format of my courses is: I build a guitar, and you build yours along with me. I demonstate and explain each step, including why I do it this way and how others might do it differently, and you follow.
Here's how this course is unique: we are not on a strict schedule. While it may be necessary that students in a class complete each step at the same time, we all know that every individual comes to this with his or her own particular skills, experience, knowledge, attitudes, work habits. I'm confident that any motivated student regardless of experience can build a fine instrument, given the proper guidance and the time and space to really understand and internalize the skills required. And since that time can vary greatly from one student to the next, my courses have flexible time frames.
For flat top guitars, it would be 3 to 5 weeks. For archtops, 4 to 6 weeks. For other types of guitars, it would vary depending on the specific instrument. If your time is limited and you need to complete your course in 3 weeks, by all means we can do that. But if you're new to this, or if you want or need more time for whatever reason, it's available; and my instruction fee for the course will be the same.
Here's why this works for me: I might demonstrate a particular task to you; say, planing something flat and straight. It may take me a few minutes. It may take you a few hours, and that's fine...it's you really getting this process for yourself, feeling it in your body. While you're doing that, I don't need to be paying close attention to you; I can be doing something of my own.
So throughout the process of building your guitar, there will be alternating periods of intensive instruction and you working mainly on your own. From my perspective, we could call it "peak" and "off-peak" times. And the "peak" periods that require my undivided attention will be about the same regardless of the total time required to finish your guitar.
You're not pressured in any way, I'm there if you get stuck or have a question, and you have the time you need to really make these skills your own so you can take them with you. I do have high standards, and I want students to meet them (and develop their own) because I know that's what's most satisfying; but the atmosphere is casual and easygoing. The essence of my approach is: I want you to build a great guitar and I want you to have a great time doing it!
Brad Nickerson